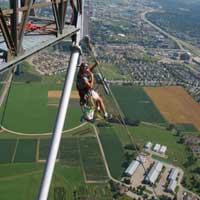 At Wave Communications, we provide full service tower erecting and broadcast systems installation. Serving the tower industry since 1968, our highly trained staff of six complete crews are equipped with state-of-the-art trucks and trailers. Combined with our 24 hour service we serve our customers by
"towering above the competition"!
From a simple relamp of a tower, to complete turnkey construction of a FM tower and broadcast system, we are ready to serve all your communication broadcast needs.
We are located in south central Wisconsin and occupy a 20,000 sq ft facility. This allows us to fabricate, weld, and paint in a controlled environment year round. We serve Wisconsin, Illinois, Indiana, Upper Michigan, Minnesota and Iowa.

TOWER ERECTION
We build guyed, self-supporting and pole type towers from a variety of manufacturers.
SYSTEM INSTALLATION
We install PCS, Cellular, Microwave, Paging and Two-way systems. We specialize in unusual sites, such as co-locations, building tops, water towers. We also have experience with 'Stealth' sites, such as silos and steeples.
SITE INSPECTION / MAINTENANCE
Critical evaluation of existing towers and systems, including SWEEP and PIM testing of antenna systems, guy wire tensioning and replacement, structural testing, analysis, and modification, guy anchor protection and replacement, tower painting, lighting system repair. The list goes on!
SAFE, EXPERT SERVICE
Our crews are formally trained and evaluated for safety and job skills. Daily jobsite safety meetings keep everyone thinking safety first! Monthly skill/safety training keeps us on top of the industry standards.